Products tagged with 'Fish'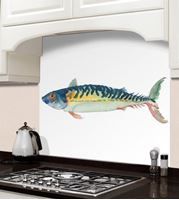 A cooker splashback that is also a piece of Barbara Allen art (a high resolution print of Barbara's Watercolour paintings). Made from toughened glass and digitally printed (on the rear) these Barbara Allen glass splashbacks are heat resistant to over 400C. Exclusively at DIY Splashbacks.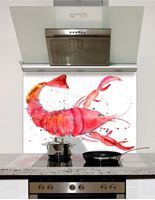 Our digitally printed Red Lobster Splashback is made from toughened glass that has been cut to your specification before being produced. Can be shaped to fit under practically any cooker hood. This custom made splashback is heat resistant to over 400C. Provides protection from splashing grease when cooking and is easy to clean. Manufactured to be UV resistant so it doesn't fade in normal conditions.
Our fully bespoke splashbacks are made to your requirements and bring a touch of your personality to your kitchen.