Personalised Gin Splashbacks or interior wall mirror
Bottom text can be customised also on request.
Optional Light Antique Mirror Effect shown below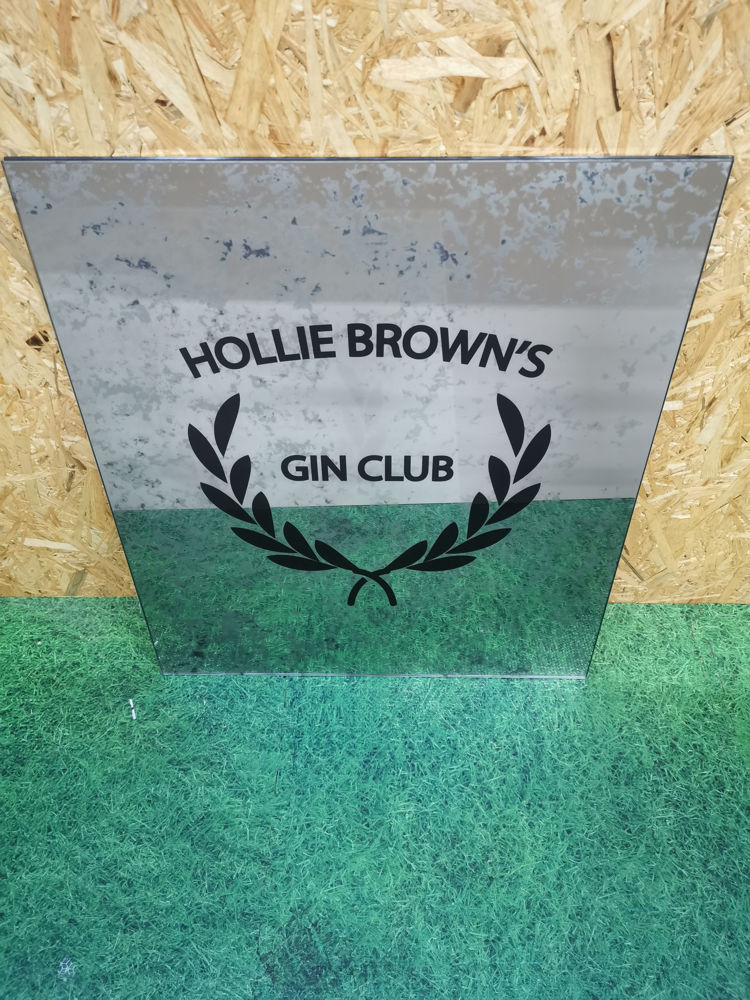 Effect
Easy to clean toughened mirror splashbacks, suitable for use behind all hob types and heat resistant to over 400C (degrees celsius)
Easy Clean coating is available also which helps repel grease
All edges are polished with a 1.5mm bevel
If drill holes are ordered they are the same thickness of the glass due to the toughening process and requirements
(with the exception of 4mm thickness which has 6mm holes)
How to measure

How to fit

Antique Mirror Splashbacks
The most in demand splashback design at present are antique mirror splashbacks but up until now is has not been possible to toughen/temper antique mirror. By using pioneering techniques we are now able to offer antique mirror splashbacks, made from toughened glass, made to any size or shape.
Authentic Antique Mirror is caused over time by oxidation of the mercury backing used to make a mirror reflective. Modern antique mirrors though are reproductions, the aging process has been sped up using chemicals to replicate the oxidation cause to a mirror over time. Tempered Antique Mirrors are also reproductions where we have used techinques to replicate the oxidation on a mirror splashback. Unlike authentic antique mirrors though, which will of course have gathered surface damage over time, our antique mirror splashbacks for kitchens and bathrooms will have defect free surfaces and modern beveled edges.
Order times and delivery
All Antique Mirror splashbacks are made to order (usually take 3-4 weeks to manufacture).
Any shaped splashbacks, splashbacks with holes and made to order/bespoke sizes typically take 3-4 weeks as long as they pass quality control. Shaped panels take the longest duration as the manufacturing process is more complex and made using a CNC. In stock sizes (without holes, rectangular or square shaped). Lead times can vary throughout the year so if you would like to know our current lead times prior to ordering please just give us a call.