Bathroom Glass Splashbacks Ideas

Glass and Acrylic Bathroom Splashbacks are a modern and hygienic alternative to tiles. Seamless and grout free, you'll find them an easy-clean solution with little maintenance required.
Installation is also much easier than tiles, with many homeowners opting to measure and fit themselves with the help of our comprehensive tutorials section.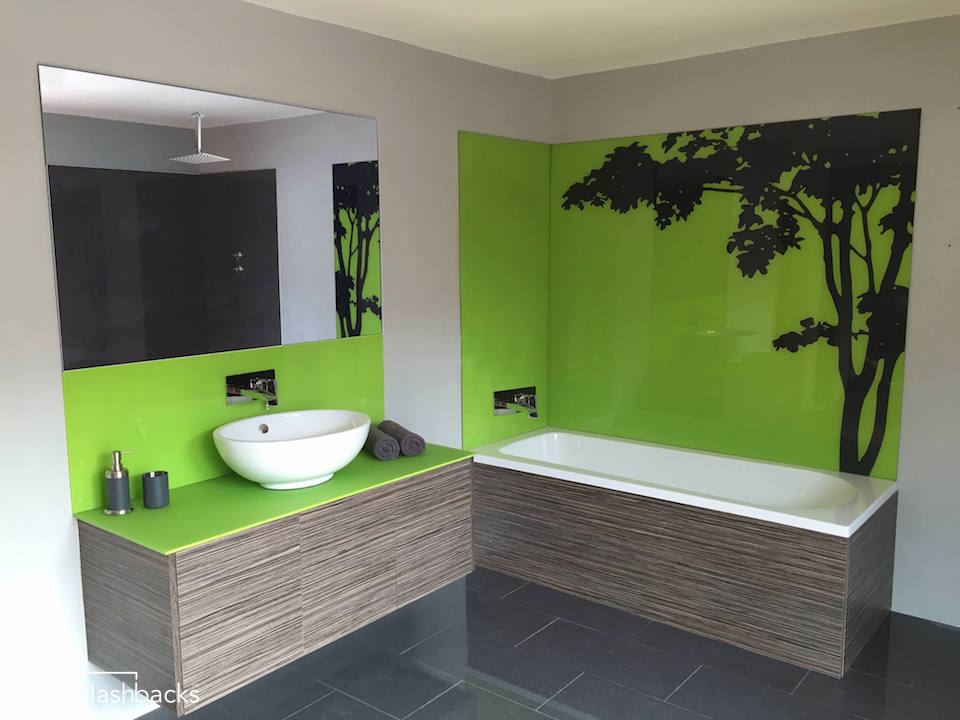 As well as the obvious cleaning and fitting benefits, glass splashbacks aren't just a practical solution in bathrooms, but also a stunning feature. 
Glass bathroom splashbacks are available in any size, shape, colour, or design. The above bathroom was inspired by a design our client had seen online.
The tree silhouette was colour-matched to Farrow & Ball Down Pipe Grey (we do not use F&B paints), with a matching glass shower splashback you can see in the mirrors reflection.
The rest of the glass splashbacks and vanity top are colour-matched to Little Greene Phalto Green.
Glass Vanity tops are a striking alternative to formica work surfaces. Available in 4,6,10,12 & 19mm thicknesses and in any colour or print, it's possible to fully coordinate your bathroom.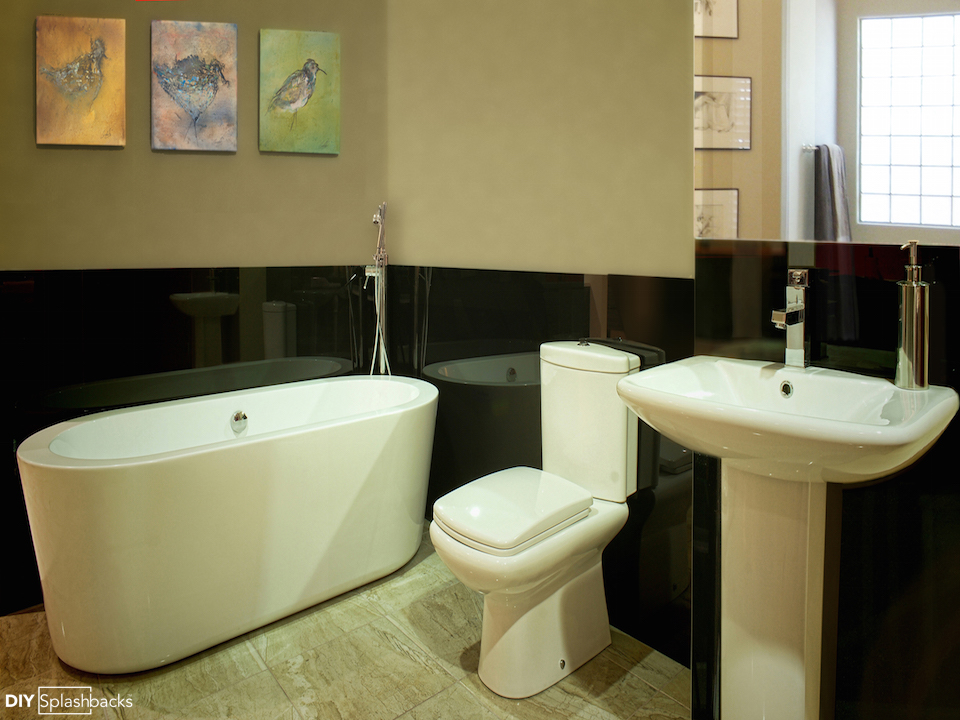 One of the other key benefits of opting for glass bathroom splashbacks is that they are fully customisable. Unlike tiles, you can choose exactly the shade you want.
Colour-Match glass splashbacks to any colour from all Branded Painted Manufacturers. The above glass splashbacks are colour-matched to Dulux Rich Black clad half the walls, leaving the top half for painting.
This is a cost effective way to change a scheme. Bathroom splashbacks are easier to measure and fit than you might expect, no sockets! However it is possible to have your glass cut for any obstacles such as plumbing.  Find out more on our tutorials section.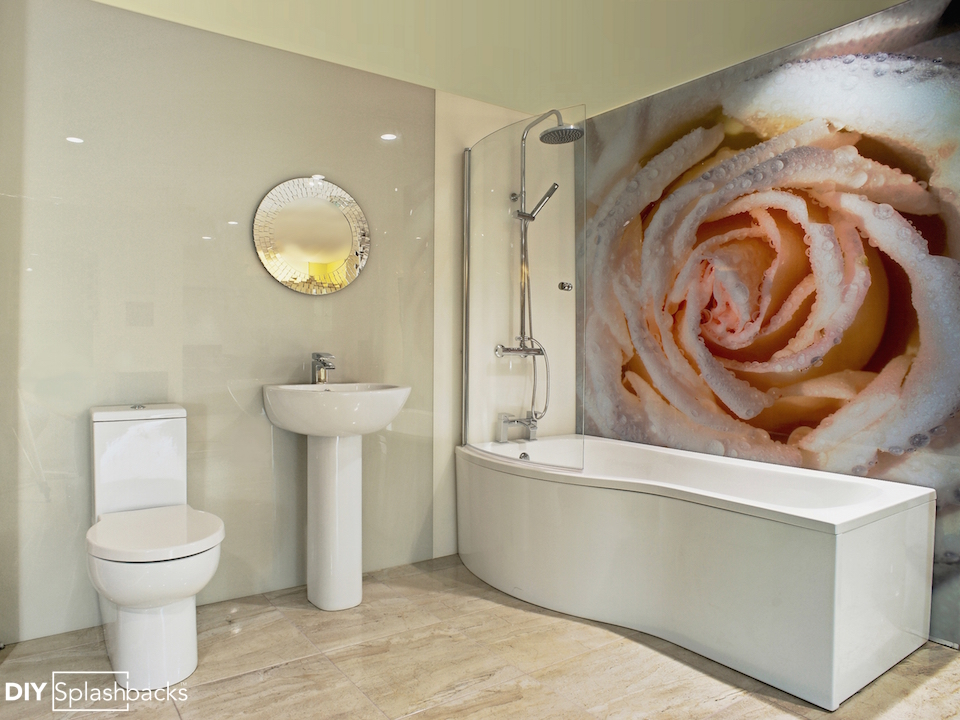 It is also possible to create a striking centrepiece by opting for a printed design. The above glass bath splashback was printed in a Macro Rose from our Nature Collection.
Combined with Dulux Nutmeg panels, this is a stunning statement in an otherwise neutral bathroom. Choose from over 500 designs, or source your own image. Whatever your inspiration is, we can make it!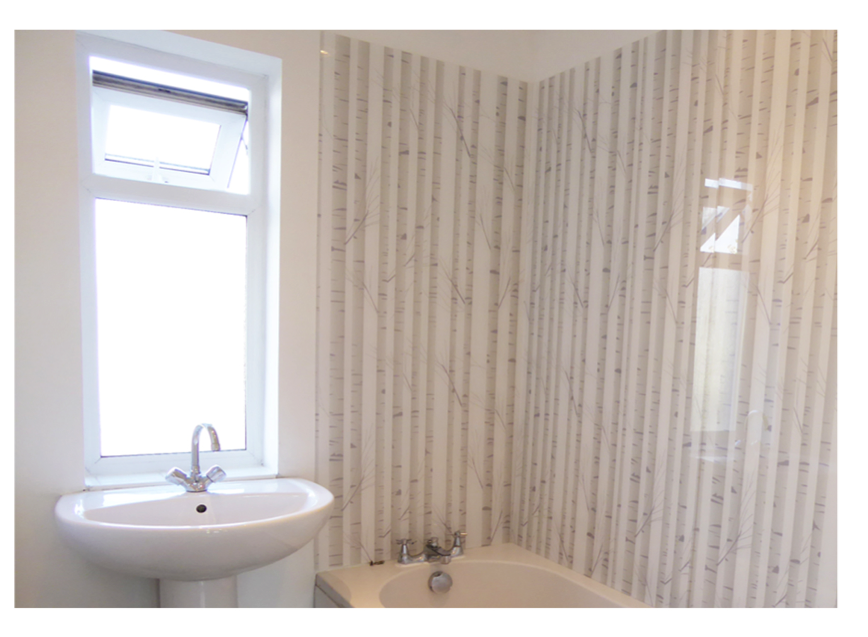 We also offer Acrylic Bathroom Splashbacks. Similarly priced to glass splashbacks, our acrylic is 6mm thick but is much lighter and easier to fit than glass.
One significant advantage of acrylic over glass (if you plan to measure and fit yourself), is that you can cut and drill to your requirements on site. This means that you can easily fit your acrylic splashback around showers with just a drill and jigsaw.
You'll find a number of acrylic cutting guides on YouTube. If you are interested in Acrylic bath, shower or sink splashbacks get in touch.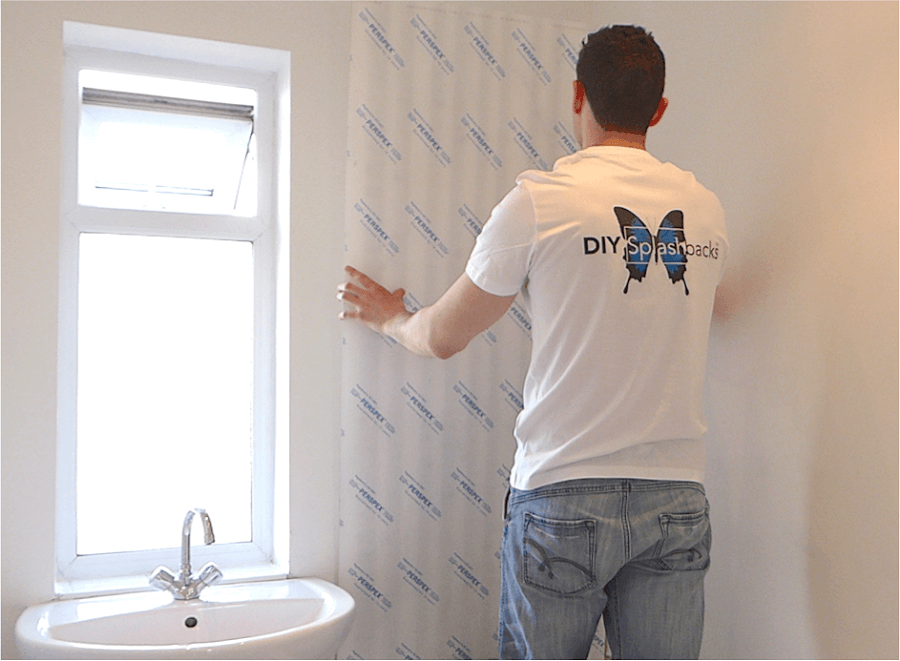 As well as comprehensive guides to Measuring & Fitting Glass Splashbacks, we also offer a Full Splashback Fitting Service across the United Kingdom.
Our experienced fitters visit your home for a consultation, measure up and then return to fit. Rates vary depending on geographical location, and area to be clad. More information on our...fitted glass splashbacks.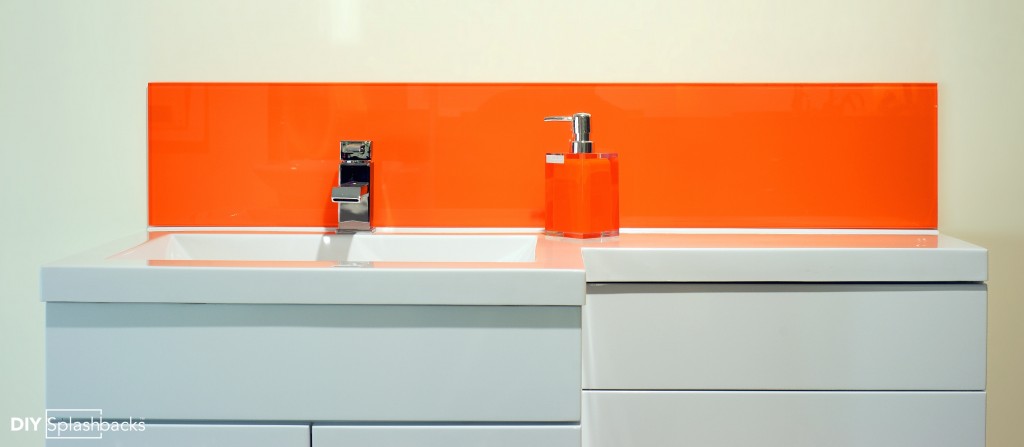 Possibly the easiest and cheapest to install is the humble glass sink splashback. Measuring and Fitting for a glass sink splashback is so simple, even a complete DIY novice can do it. Sink splashbacks start at just £35 and are like installing one giant tile, but without the grout. Like our other products, glass sink splashbacks are available in any size, shape, colour or pattern. For prices, simply input your width and height to get your glass splashback quote.