A popular colour for contemporary kitchens lately is white- a blank canvas. Why is white so popular? Well we think it is just that exact reason, white kitchens are a blank canvas. So like an artist you can choose how to create your work of art in exactly your own style.
Colour choice
Most people assume a coloured glass splashback should be bright, others play it safe and go for black and of course many people go for something neutral so they can accessorise. But. It is possible to play it safe and extend the notion of a blank canvas to some extent with a grey tone.
As you can see from the below glass splashbacks, whilst this kitchen has full wall coverage to unit height it still allows you to add your personality to it with accessories and appliances. Throw a claret red toaster and kettle into the mix along with a colour match blind and you have created a fully coordinated look. In a few years time you can change these appliances and window dressings to a bright orange and the same kitchen is totally transformed but still perfectly coordinated. Why? Because it is still essentially a blank canvas and one that can be transformed from sophisticated and classy to fun and playful with a small financial outlay.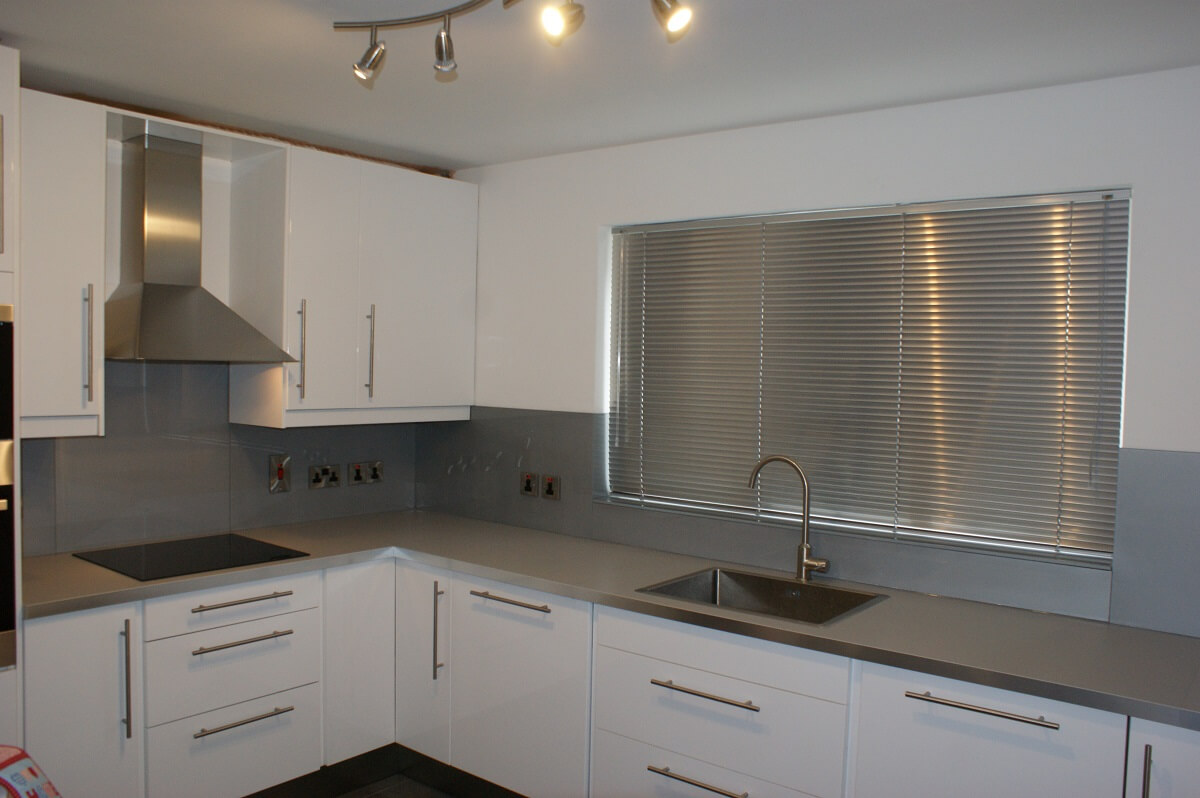 A warm scone with jam
Fancy being a little more adventurous? So many colours go with a white "blank canvas" kitchen, in fact the only reasl colour that does not is cream, so you really can use the opportunity to really reflect your own personality or create a mood in your kitchen. As the modern kitchen is now essentially the hub of the home many of our clients opt for warmer colours. Warmer colours affect your mood and help you feel more relaxed, it's a science in fact and something you should consider when choosing a colour of glass splashback or indeed the colour of any walls or soft furnishings in your home.
The below warm red immediately gives you a sense of comfort and it just oozes luxury- this particular shade of red and indeed reds on this tone are actually the perfect coordinating colours for cream kitchens. Jam on top of a nice warm scone- sweet and also comforting - creating a nice room to unwind in with your family or friends.