Ask 100 people to describe their dream kitchen splashbacks and you will probably get 100 different answers. Truth is, there is no 'right' or 'wrong' when it comes to choosing colours and finishes.
It depends entirely on what you want to get out of your splashback, in terms of its design and practicality.
Of course, getting to grips with the options available can seem daunting at first, nevertheless, it is relatively easy to narrow things down to a shortlist of contenders.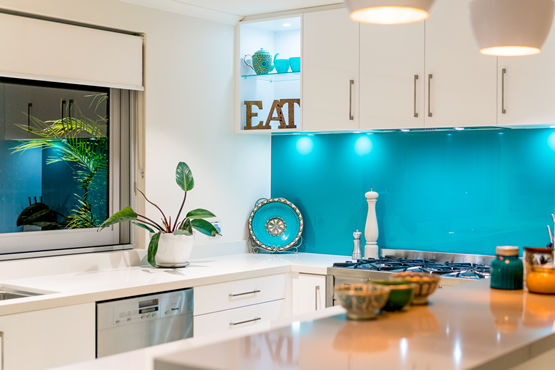 With this in mind, here are four approaches to choosing an attractive and functional splashback for your kitchen:
Choose A Complementary Colour
Many (if not most) buyers choose to go with a splashback in a complementary colour. This means opting for a colour that blends in seamlessly with your existing décor. It doesn't necessarily mean picking a splashback that is the same colour as the rest of your kitchen, but something that fits in beautifully with its surroundings. Perhaps consider the colours and finishes of the other features and fixtures in your kitchen, choosing one of these for the colour of your splashback.
Make It into A Feature
This is basically the exact opposite approach, where you deliberately choose a colour that stands out boldly and prominently. This can be a great way of bringing a pop of colour into your kitchen, creating an eye-catching feature and focus point. If you are planning on making a feature of your splashback, experiment with as many bold (and even brash) colour choices as you like.
Consider A Mirrored Finish
Mirrored splashbacks can look the part in a wide variety of kitchens. Reflective surfaces are particularly effective when introduced to smaller interior spaces, creating a feeling of space and light. It is also worth remembering that a mirrored splashback can be tinted in almost any shade. This is an option well worth considering, if you are looking to brighten up your kitchen and make the space feel larger than it actually is.
Simply Choose Your Favourite
Last but not least, the easiest approach of all is to simply forget all of the above entirely. Rather than complicating things with various considerations regarding contrast and cohesion, why not just choose a splashback you love the most? The important point to remember is that if it works for you, that really is all that matters. Never base your decisions on current, past or future trends – base them entirely on your own personal preferences.
At DIY Splashbacks, we would be delighted to provide you with an obligation-free consultation to help you choose your perfect kitchen splashback. Call or e-mail our customer support team and we will get back to you as soon as possible.