The cost of a glass splashback can vary depending on the size and specifications required. Should you require a simple 6mm thick cooker splashback for example it should be well under £200 for a typical size of 600mm x 750mm but again it depends on the specification. Solid colour or digital print, additional paint options like special effects and sparkles or indeed if you would like it shaped to fit your cooker hood. What makes this cost more affordable though is how easy it is to install a glass cooker splashback. As you are essentially just fitting a large tile in one panel it is a simple DIY task that should take no more than 10-15 minutes. It is also a task that anyone with even limited DIY skills can do with relative ease. Please see our tutorial on how to fit a glass splashback here.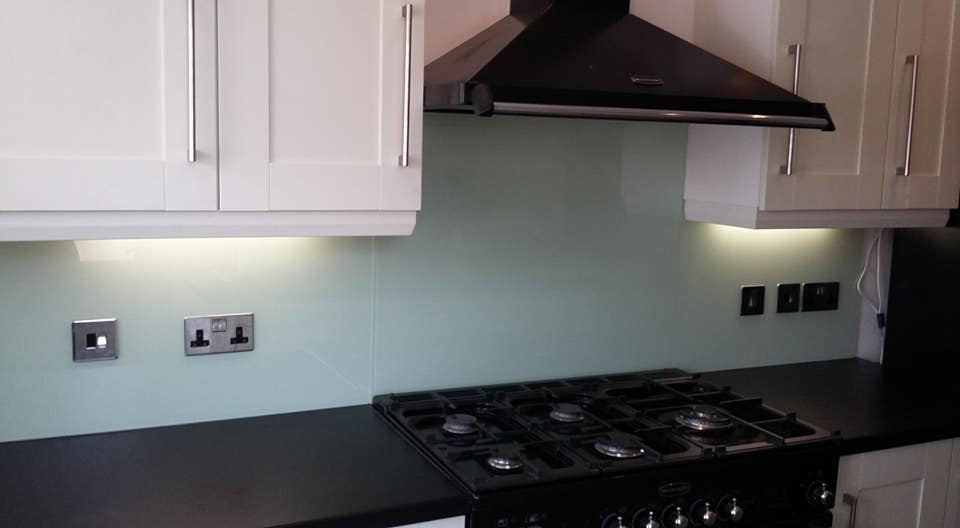 Fully fitted glass splashbacks, like the below photo vary regionally in terms of price. Due to the higher cost of living and transportation in London you may find the labour charge to measure and fit a glass splashback alone could be in excess of £500. However, the cost of labour to tile the same area is probably very similar. At the other end of the spectrum areas where wages are lower may measure and fit for as little as £150 in labour. All in all, for a typical L shaped kitchen with glass covering the entire area between the worktop and cabinets, rising to the cooker hood and around the window at the same height would usually be in the region of £900-£1800 (depending on the aforementioned options and locations)
Can I fit glass splashbacks myself, how do I measure around the plug sockets?
Again we have a number of tutorials on how to do this. If you are worried about correctly measuring around plug sockets you can of course install glass upstands. With a bit of thought and following our tutorials though you can indeed measure for a simple cooker splashback, a cooker splashback and upstands or a full wall including socket cut outs. If you need any advice our customer service team also have 10 years experience in measuring and fitting glass splashbacks, there's nothing they haven't came across before!