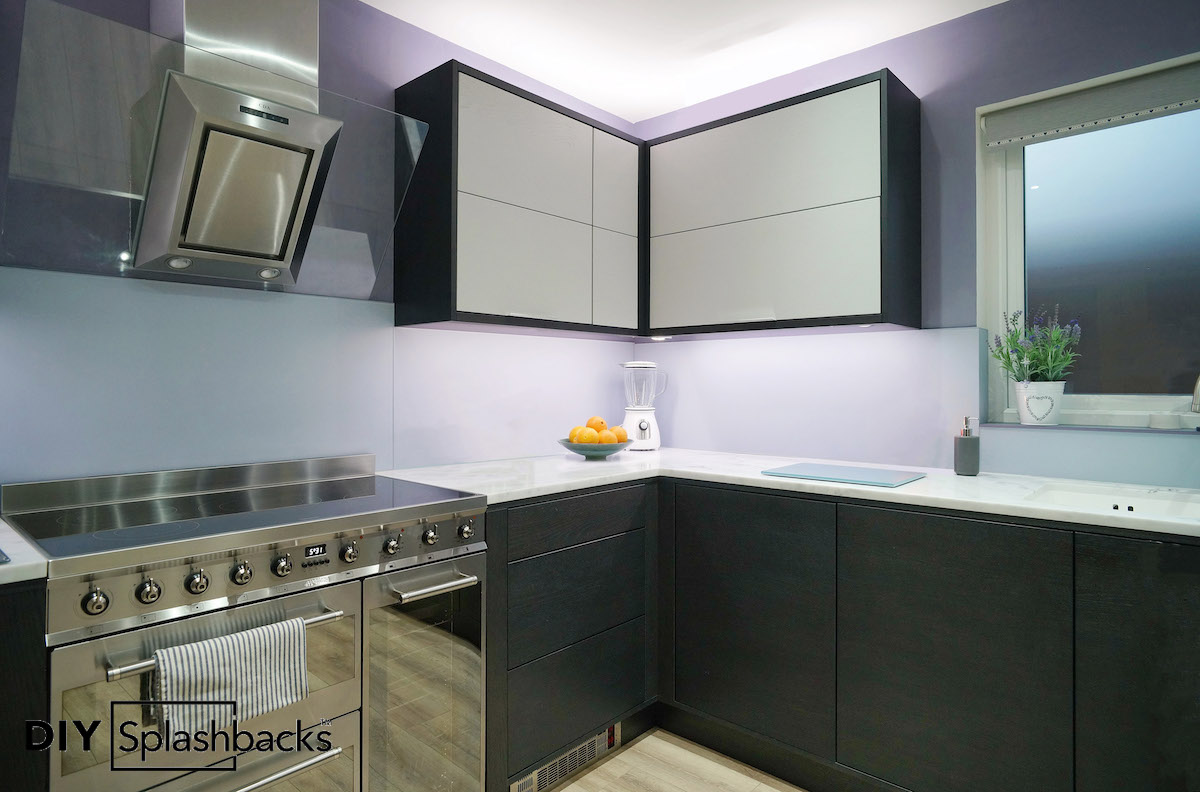 How much is a glass splashback?
Like any product or service, several factors can influence the cost...
-Do you plan on measuring and fitting yourself?
-Would you prefer a professional installed it for you?
-Is your prefered splashback:
Clear?
Coloured?
Printed with an image or design?
Toughened mirror?
-Would you like it behind the hob, or around the perimeter of your kitchen?
Measure and fit yourself- 'DIY'
Measuring and fitting a standard cooker splashback, or a splashback and upstands is very simple as you are literally measuring a rectangle and sticking it to the wall.
If you require a supply only option that you can fit yourself then you can quickly and easily get an instant price using any of the below instant quote pages/tools.
For printed designs and mirror splashbacks there are multiple product pages but once you find the right style you will still be able to get an instant quote.
Get a quote for a supply only coloured glass splashback
Get a quote for a supply only clear glass splashback
Choose a design and get a quote for a printed glass splashback
Choose a toughened mirror colour or design and get a quote
Use our installation service
There are a number of installation experts across the UK we can recommend to measure an fit our products. For the majority of the United Kingdom the installation service costs £375, to check if this fee applies to your location please see the fully fitted glass splashbacks.
This price is the contractor's fee to measure, fit and take liability for any mistakes or damage caused- meaning nothing at all for you to worry about!
To get a cost of the products themselves you can use any of the pages above to enter the size of each panel to get a quote, then just add the installation cost to this. All prices include VAT.
Guide prices
You can get instant, exact prices on any of the instant quote pages above.
However, as a guide - the cost of a glass splashback varies depending on the size and specifications required.
Should you require a simple 6mm thick cooker splashback for example it should be well under £200 for a typical size of 600mm x 750mm but again it depends on the specification.
Other variables such as... is it a solid colour? or digital print? and there are also specialist effects such as sparkles.
It's also possible to have it shaped to fit around your curved cooker hood.
The Main Benefit
It may sound complicated or pricy, however it really isn't! What makes the overall cost more affordable is how easy it is to install a glass cooker splashback.
As you are essentially just fitting a large tile in one panel it is a simple DIY task that should take no more than 10-15 minutes. It is also a task that anyone with even limited DIY skills can do with relative ease.
Please see our tutorial on how to fit a glass splashback here.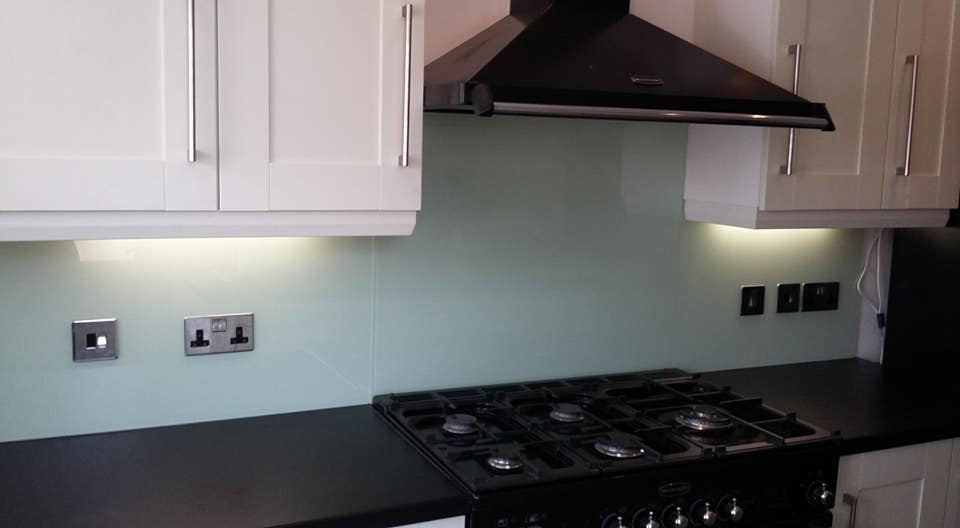 Professional Installation
Fully fitted glass splashbacks, like the below photo vary regionally in terms of price.
Due to the higher cost of living and transportation in London you may find the labour charge to measure and fit a glass splashback alone could be in excess of £500 (we do have installers in London at the minute though who can provide this service for £375).
The cost of labour to tile the same area is probably very similar. At the other end of the spectrum areas where wages are lower may measure and fit for as little as £150 in labour. All in all, for a typical L shaped kitchen with glass covering the entire area between the worktop and cabinets, rising to the cooker hood and around the window at the same height would usually be in the region of £900-£1800 (depending on the aforementioned options and locations)
Can I fit glass splashbacks myself, how do I measure around the plug sockets?
Again we have a number of tutorials on how to do this. If you are worried about correctly measuring around plug sockets you can of course install glass upstands. With a bit of thought and following our tutorials though you can indeed measure for a simple cooker splashback, a cooker splashback and upstands or a full wall including socket cut outs. If you need any advice our customer service team also have 10 years experience in measuring and fitting glass splashbacks, there's nothing they haven't came across before!