Colour matching to my Aga.
Britain's love affair with AGA cookers shows no sign of stopping. With a fabulous range of 15 colours and celebs like Mary Berry and Adele owning their own, it's no wonder AGAs are a must have in today's kitchens.
We're often asked if we can create a glass splashback to match the AGA colour range. The answer is yes! We can colour match to virtually anything from paints to fabrics and even objects. Our paint experts mix every single shade to order. There are two ways you can source the correct colour for your Aga splashback.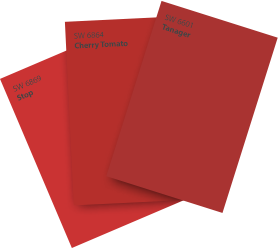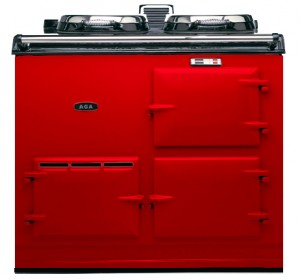 Firstly, grab a number of paint charts from Branded Paint Manufacturers such as Duluxor Valspar. You'll find these in Decorators Centres or DIY Stores. The likelihood is that you'll need to visit the Colour Station as opposed to grabbing a Dulux Colour Book for more shade variations.
Colour Stations house paint swatches in thousands of shades. Grab as many as possible, and take home to compare to your Aga. Once happy with your colour choice, mark your colour card and pop in the post to us along with your contact information.
If you are fitting a new kitchen, there is a possibility that your kitchen fitter may have a RAL deck. RAL is a colour matching system you might not be familiar with yourself, however your kitchen fitter or tradesman is likely to have a RAL deck in their box of tricks. DIY Splashbacks offer glass splashbacks in the vast RAL range, and ordering is very easy with a RAL colour.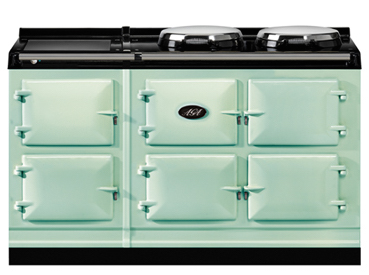 The second way is to order one of our recommended AGA colours. We've visited AGA stores to colour match with their collections. The recommended by us range of colours is styled on a new AGA. Please note that while we take every care to ensure these colours are accurate, they are only as close as the painting process will allow. See below for an example of AGA Racing Green colour matched to a sample! A perfect match!
*Under certain lighting and temperature conditions, slight colour variations between your glass splashback and AGA may become apparent. The unique enamelling process of AGAs means that AGA colours may darken when in use. So what starts out as a total match between splashback and AGA, may in time be a shade or two different. This is also true of ordering a new glass splashback, when your AGA is a number of years old.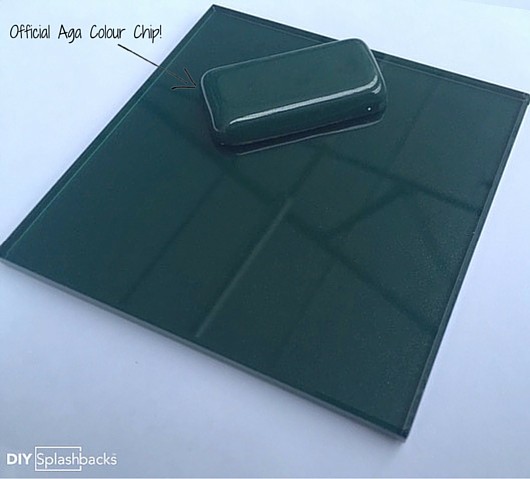 Regardless of which method you choose, we always recommend ordering a glass sample. This way, there will be no surprises when you receive your splashback. Glass Samples are £10, and are mixed to order. Your first sample is refundable once you place your splashback order.
To order a glass sample, click your AGA colour below, you'll be redirected to our sample page. Simply input your colour, followed by AGA in the box. For example Aqua AGA. For more information on samples click here.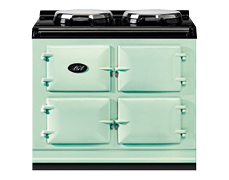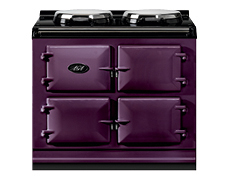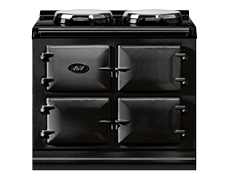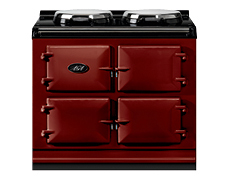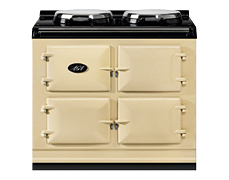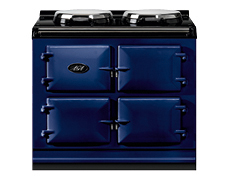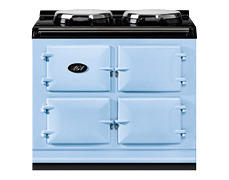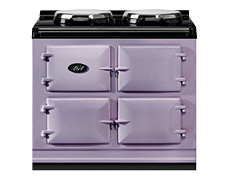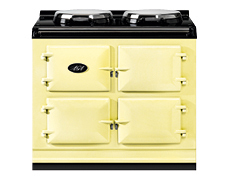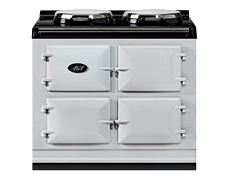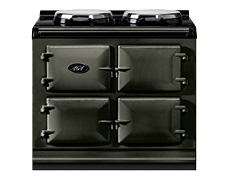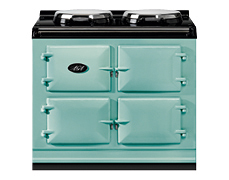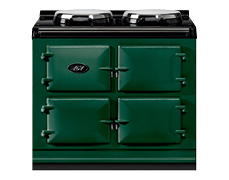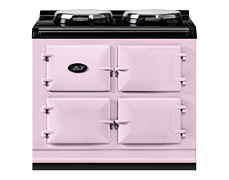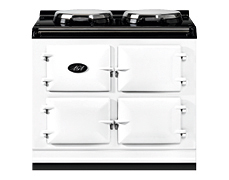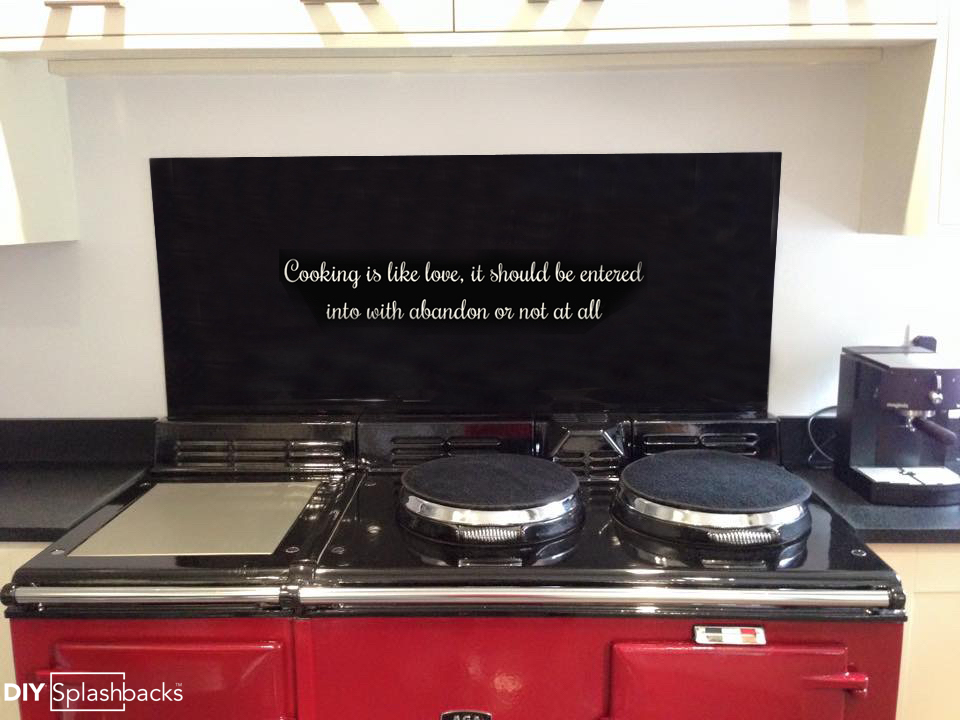 "Cooking is like love, it should be entered into with abandon or not at all". This homeowner commissioned their favourite verse on their Aga Splashback. They matched the intensity of their Aga top, with the ivory of their kitchen cabinets to achieve a coordinated look. Our experienced Design Team can work with you to create a glass splashback that is completely unique. Finding the right design can be as easy as exchanging emails with the Design Team until you achieve the look you want. Whatever your inspiration is, we can make it.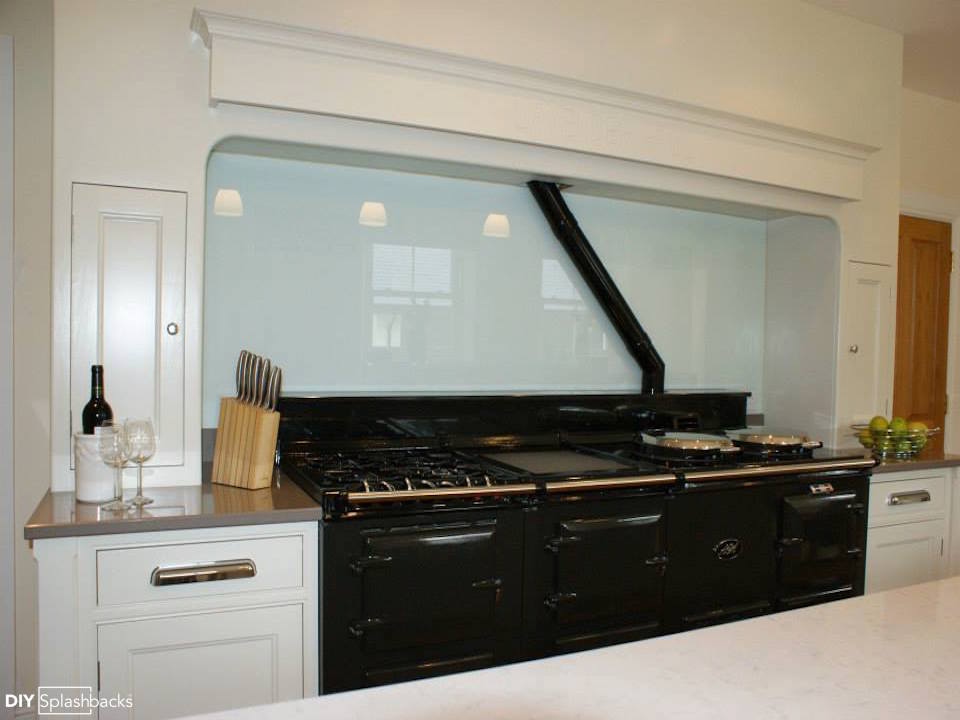 The above Dulux First Dawn splashback was fitted in the entire recess with our Measuring & Fitting Service. Our network of fitters can visit your home to measure, then return to fit your splashbacks. For more information on our Fitting Service, click here.
*Please note that we can never guarantee a direct colour match to your AGA. Regrettably this is simply not possible, as no two AGA colours are ever the same due to the enamelling process and the impact of heat on your AGA. We colour match to a range of sample enamel chips supplied by AGA. For the closest possible colour match, please order a glass sample.