Acrylic Splashbacks
When new kitchen worktops are installed it can be nice, especially with stone and quartz, to continue this around your kitchen with matching upstands and cooker splashback.
A nice high gloss complimentary finishing touch can be coloured acrylic splashbacks. The reflective, glass effect, finish can really lift the kitchen and add more light and colour to areas that are usually overlooked (and hard to clean).
Take it to the top
The below example makes a feature out of areas above, under and around the kitchen cupboards and we are sure you will agree brings a real pop to the kitchen colour palette.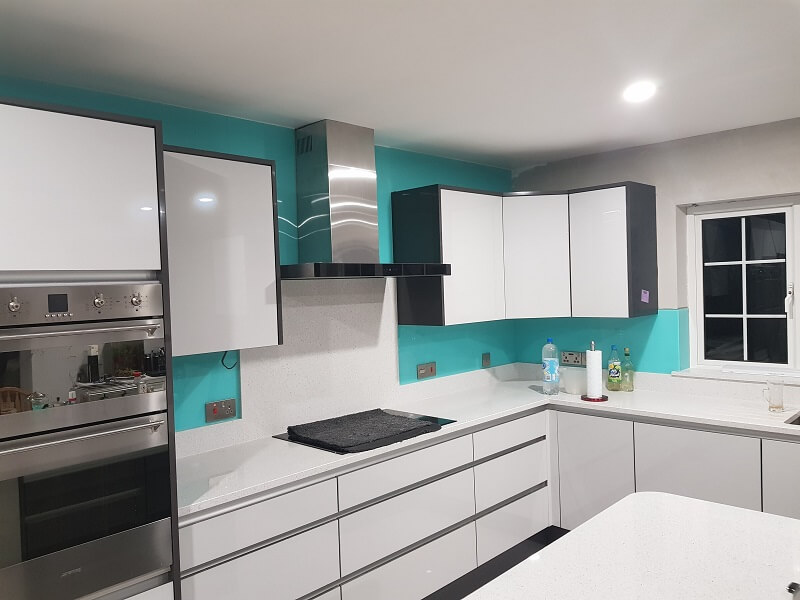 Blue acrylic splashbacks surrounding the kitchen wall units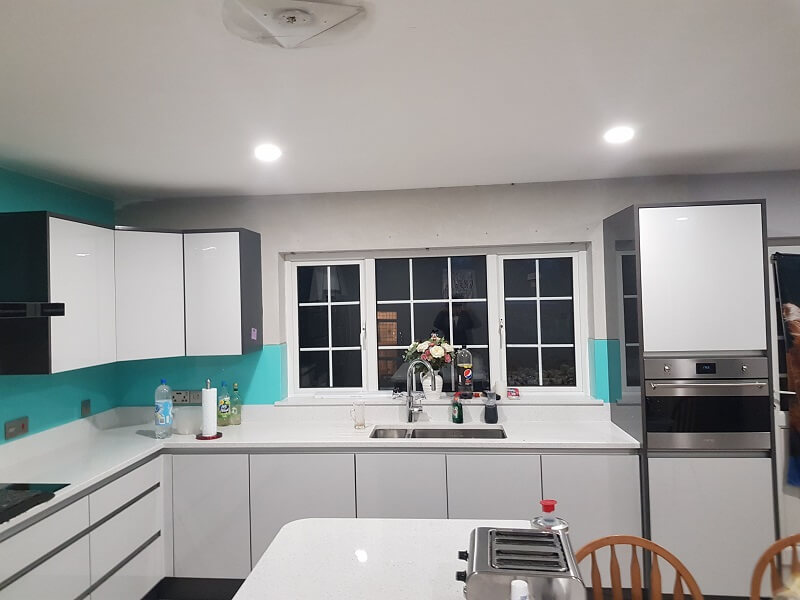 Blue acrylic splashbacks under wall units and around windows
Easy Installation
This kitchen looks so much more vibrant with this extra colour added and the problem areas to keep clean are now much easier to maintain. Our acrylic splashbacks are very easily cut using HSS drill and jigsaw bits (do not use normal power tool bits, HSS bits have many more, smaller, teeth and will not cause any problems). Using our cutting service we can cut the panels to the correct heights and widths for you leaving you to simply cut around sockets using conventional power tools. You can of course also ask your kitchen fitter to do this, it's just as easy as cutting a laminate worktop!
Perfect in Bathrooms too!
Acrylic is not only suitable for most areas in the kitchen but you can also use it in the bathroom to create seamless coloured, easy to clean walls. Shower panels without the need for grout are a must as you minimise the number of areas where moisture sits therefore less areas where mould can grow. Add our easy clean coating and your shower or bathroom walls will be incredibly low maintenance as the water will run off just as it does with self cleaning glass windows.
Get an instant quotation
You can check prices and preview thousands of colours on our acrylic splashbacks page here.