There has never been more choice of kitchen splashbacks available to UK consumers as there is right now. In the past it was simply stainless steel or wall tiles but now there are a multitude of options available. Choosing the right splashback for your kitchen should be easy then right? You would certainly think so but the problem is sifting through all the options to find the right type of splashback for your kitchen.
Coloured Glass Kitchen Splashbacks
As with tiles, glass kitchen splashbacks are available in any colour you can imagine. Made from toughened glass in made to order or "stock sizes", they can be used behind any kitchen hob and heat resistant so they will not break. Toughened glass splashbacks are even suitable for use behind gas hobs, range cookers and AGAs. One main feature of a coloured glass kitchen splashback is that they are incredibly easy to fit yourself, just add some blobs of adhesive or silicone to the rear colour coated side and fix to your wall. If you have ordered the right size ok you should have one fitted in a few minutes, as simple a DIY task as you can imagine.
The other main feature of a coloured glass kitchen splashback is that it is very easy to find one to compliment your kitchen colour scheme, as they can literally be made in ANY colour.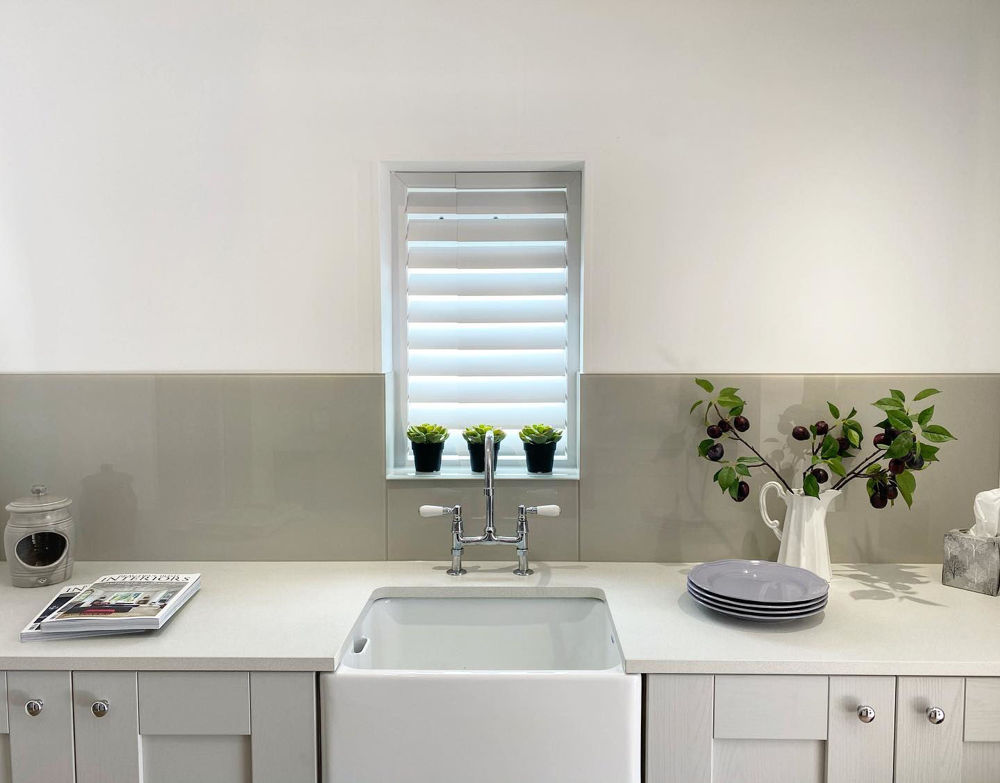 Printed Glass Kitchen Splashbacks
Technology has came a long way in the last 10 years in the glass and printing industry and one huge advancement is the arrival of large format flatbed printers. Flatbed printers allow us to digitally print directly onto the glass itself using UV ink. In the past, printed kitchen splashbacks were made by adhering a piece of printed vinyl to the rear of the glass. Unfortunately kitchen splashbacks made this way (vinyl backed) had a very limited lifespan as the vinyl itself would degrade and the adhsive used to atttach them to the wall also tended to affect them (if shopping on other websites or ebay it is worth checking as many cheaper printed kitchen splashbacks still use this method). Things have moved on though as mentioned and printing directly onto the glass itself means this is no longer a concern, the print will not degrade and as we use UV ink it will not fade.
Digital printing designs onto glass opens up an unlimited choice of designs and patterns but if you want a personalised glass splashback that is an option too. Once again, too much choice is not always a good thing when it comes to choosing the perfect design for your kitchen but it does mean that no matter what colour scheme your kitchen has you can always find the right design for your kitchen splashback.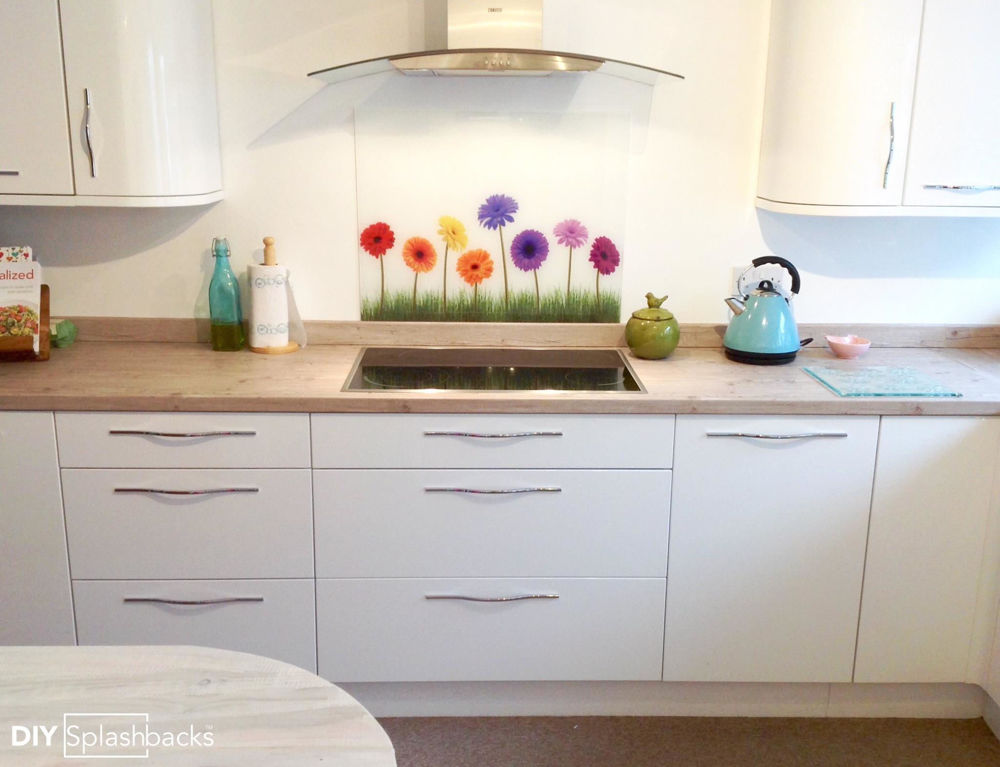 Mirrored Kitchen Splashbacks
Glass Mirrored Kitchen Splashbacks are probably on the higher end of the range but a product that will definitely add value to your home. As the name suggests they are mirrors but for kitchen hobs they are (usually) made from toughened glass, unlike a normal mirror. As standard they are available in three mirror colours- standard silver mirror, bronze mirror and grey tinted mirror. Silver will go in the vast majority of kitchens as they mostly just reflect what is already in your kitchen. Grey and Bronze tinted mirror splashbacks are a little darker than silver and tinted/coloured but they will each further compliment the right kitchen (for example in a grey kitchen a grey tinted mirror is the perfect compliment and natural wood and white gloss kitchens may be better suited to bronze).
As with all of our glass kitchen splashbacks they are made from toughened glass and can be made to order so they are well suited for use behind a hob and they can be ordered to fit perfectly.
Antique mirror splashbacks may also now be made from toughened glass, we have found that many people do not want a simple reflection but something a little more to make more of a feature of their splashback.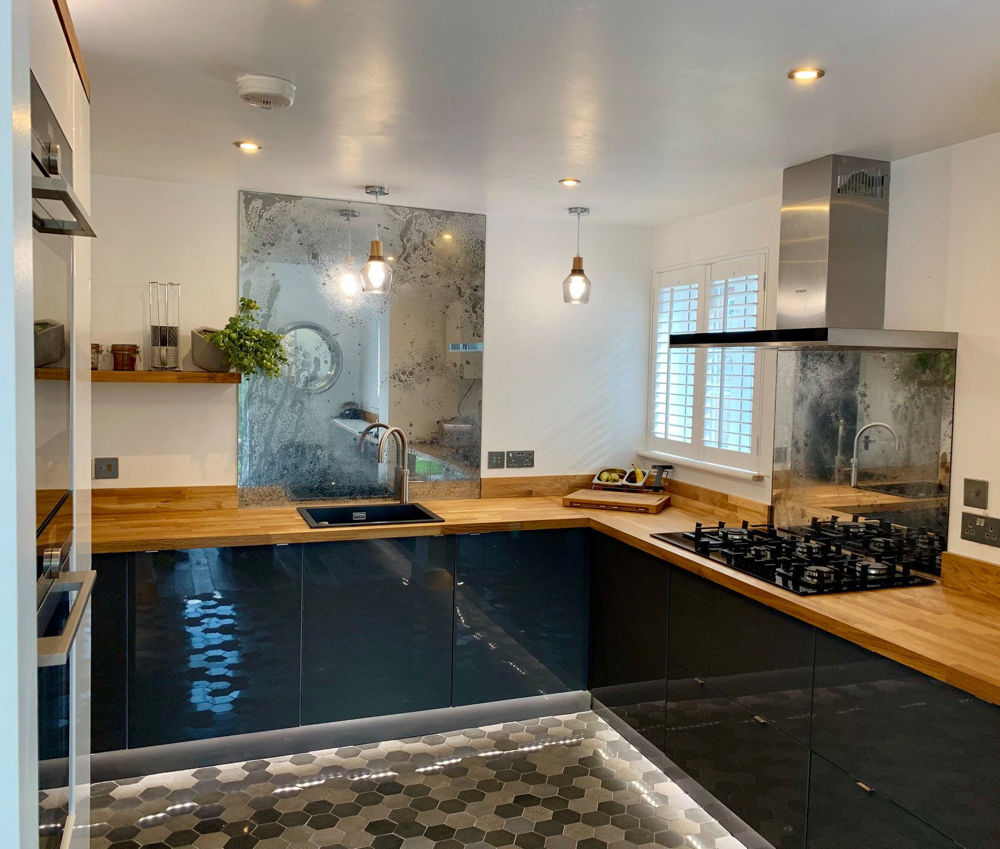 Acrylic Kitchen Splashbacks
Glass and acrylic kitchen splashbacks are mostly made the same way, specialised paint is applied to the rear of the clear substrate, glass or acrylic, to add colour. Acrylic kitchen splashbacks can also be made to order to perfectly fit the space. The main differences between coloured glass and acrylic kitchen splashbacks are below.
Acrylic splashbacks are much softer than toughened glass, so they can be easily scratched - but scratches can be fairly easily polished out again if they do occur.
Acrylic splashbacks are only heat resistant to around 80C, so we would not recommend you use them behind your hob.
Other than the two differences above, although they are quite important differences, they look identical to a glass kitchen splashback. Due to the lack of heat resistance we would probably only recommend them for behind sinks and in bathrooms, where they are ideal.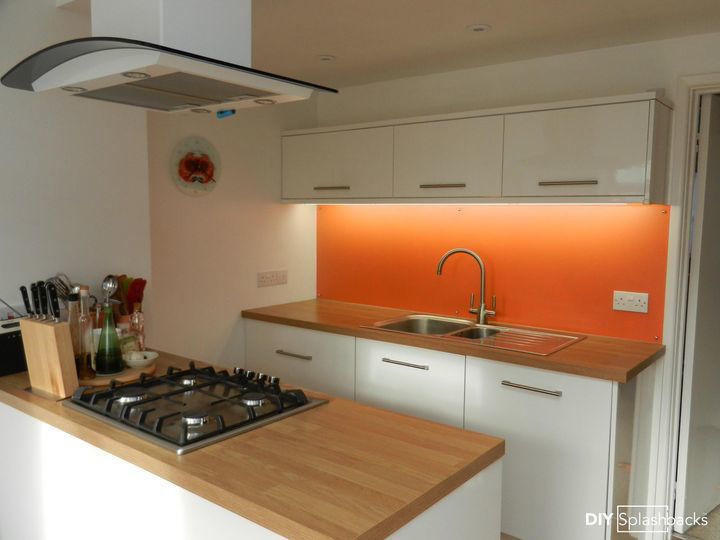 Stainless Steel Kitchen Splashbacks
Stainless steel is a very practical product for a kitchen splashback, but not very aesthetically pleasing. The main reason they are used, mostly in commercial kitchens, is because they are biologically neutral so therefore antibacterial and easy to clean (although many of our customers would argue this point).
Stainless steel can be cut to any size so can be made to fit your kitchen but only available in the one colour. Stainless steel is highly temperature resistant so can be used behind any heat source so no problem behind any type of kitchen hob. The main drawback with a stainless steel splashback is that it only comes in one colour so not so easy to match your kitchen decor but if you have a stainless steel hob then it will be a perfect match. Stainless steel is probably more of a functional product which you would view more of as an appliance but certainly a great option if you need a functional and affordable solution.
Kitchen Wall Tiles
There is no doubt that kitchen wall tiles can look beautiful, especially when first installed. Kitchen tiles have been around for centuries and there are countless high street retailers offering them so you are not spoilt for choice and it should be very easy to find a tile to match your kitchen. Also very heat resistant so once again they can be used behind all types of kitchen hob. The main drawback with kitchen tiles is of course tile grout which is prone to staining and not very hygenic so they do need a lot more cleaning and maintenance than other kitchen splashback options. Not every kitchen will suit the modern look of a glass or acrylic splashback so tiling your kitchen wall is by no means a thing of the past and will forever be a popular choice in the kitchen.
Summary
When choosing a kitchen splashback the main thing is to choose one that matches your kitchen colour scheme. All the above options are suitable for use in a kitchen but keep in mind the heat resistant properties and of course how much time you wish to spend cleaning and maintaing them.