A tiled kitchen can look lovely but for areas where you get a lot of splashing from cooking and washing dishes you may find these areas can become problematic. The simple solution is to install a glass splashback on top of the tiles. Glass splashbacks are very easy to clean and do not need any tile grout so are ideal for these problem areas in the kitchen or bathroom. You can install a simple glass splashback on top of tiles in a matter of minutes using neutral cure silicone, see below for a great example of a glass splashback that has been fitted on top of existing wall tiles.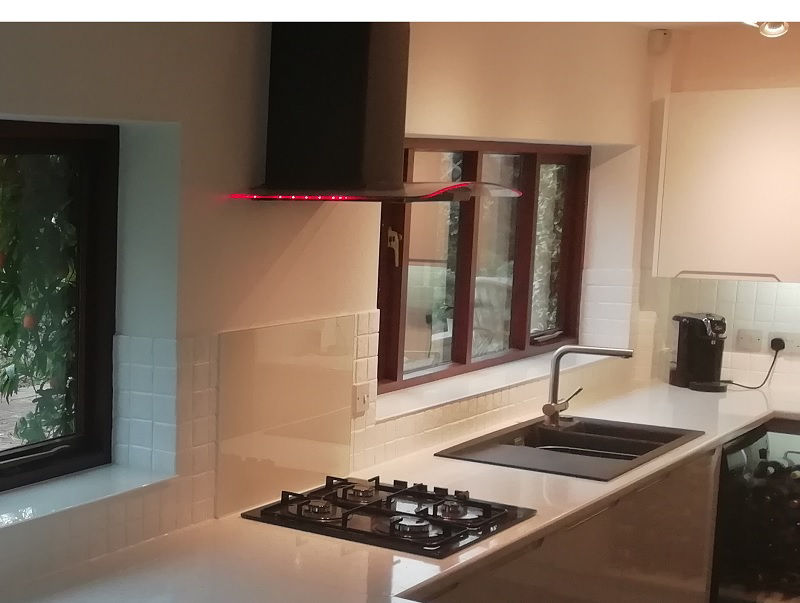 TThis customer chose a glass splashback that compliments the wall tiles and worktops to great effect. They no longer have the problems associated with cleaning grease and splashes from tile grout and now have an easy to clean glass splashback behind their gas hob. All of our glass splashbacks are made from toughened glass and fully heat resistant for use behind all types of hobs, including gas.
For bathrooms and shower panels where you do not need to use toughened glass you can install acrylic splashbacks on top of existing tiles instead of having to remove them which can be very messy. A seamless surface like acrylic again does not require any grout so water will run straight off meaning you do not need to worry about mould in the shower.