Acrylic Splashbacks can start to melt and deform at 80C and are liquid at 160C so they are not very heat resistant. There are options though...
Acrylic Splashbacks can be safely used behing an induction hob
As all the heat is applied to pots and pans on induction hobs via a magnet there is very little heat loss- so they are highly efficient and the surrounding area has little excess heat. As long as there is not direct contact with a heated pot or pan (at the above temperatures) acrylic splashbacks are perfectly suitable. For all other hob types we would recommend glass splashbacks (clear, coloured or digitally printed)
Mix and match glass and acrylic
As our glass splashbacks are made from low iron glass and the acrylic is high grade clear perspex, there is minimal colour distortion from either material. What this allows you to do is use both glass and acrylic panels on your kitchen wall- a glass splashback behind the heat source and should you wish to keep costs down by cutting the acrylic on site yourself acrylic splashbacks for the remaining walls. The high gloss finish of our glass splashbacks and the high gloss finish of our glass effect acrylic panels mean they are indistinguishable when side by side.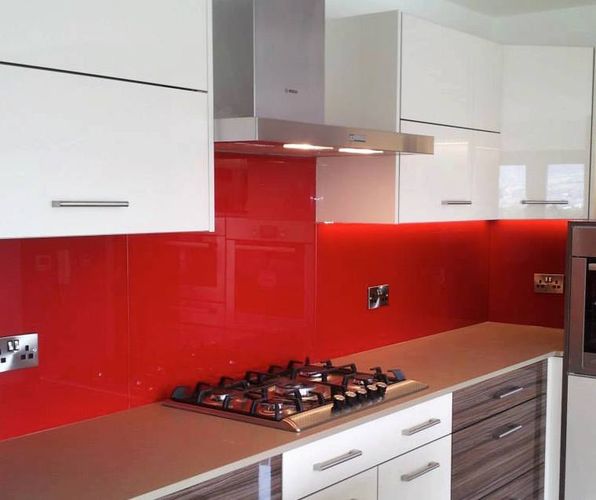 Glass and Acrylic splashbacks can be mixed and matched