Splashbacks are an alernative name for a backsplash or to put it simply, a wall covering to protect the wall behind sources of splashes from cooking or bathing. Traditionally, the main option for a splashback was wall tiles and in the 20th Century times moved on to Stainless Steel splashbacks. Despite the purpose of such coverings being primarily to protect walls from dirt and mould etc. these older variations of splashbacks have always been notoriously hard to clean (mould in a shower or oil/fat on a stainless steel splashback are incredibly hard to prevent and maintain)
Enter the new contenders- Glass Splashbacks and Acrylic Splashbacks
Due to their perfectly flat surfaces, newer splashback variations such as glass and acrylic are much easier to maintain. Windows are of course made from glass and very easy to clean although as you literally see through them it is easier to spot streaks. Glass splashbacks are back painted (or digitally printed) and much easier to clean- cleaning them with a dry micro fibre cloth is without doubt the easiest method. Medium grade wire wool can also be used though.
Acrylic splashbacks can be scratched with abrasive cleaning products and cloths (and never use wire wool on acrylic!), like glass though a microfibre cloth is perfect for mainting an acrylic splashback in the kitchen or bathroom.
Glass and acrylic splashbacks can also be treated with a specialised coating to make them much easier to clean.
What makes Glass Splashbacks (and Acrylic Splashbacks) so special?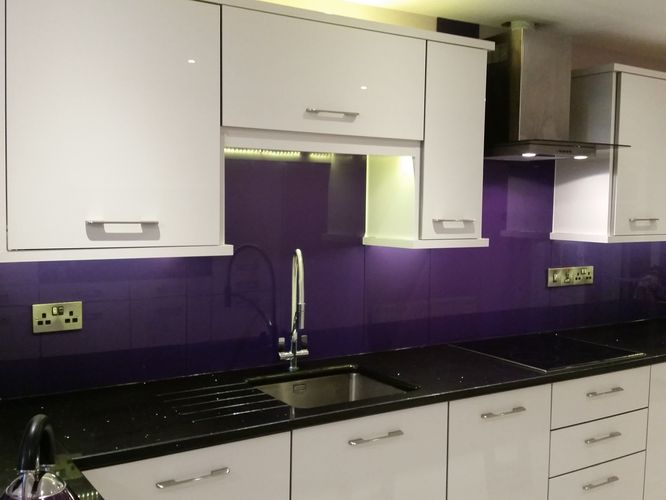 The main area this new generation of splashbacks set themselves apart is the almost unlimited colour and design options. As they both begin life completely transparent this allows them to be customised to fit into any colour sheme or pallette. Colour matched to any paint colour or digitally printed with any image are the two main areas of distinction for these products but as the industry evolves more and more variations emerge (toughened mirror splashbacks, concealed TVs and monitors for example)