How can a splashback improve your kitchen design?
Glass kitchen splashbacks are fast becoming the material of choice over tiles and stainless steel when it comes to protecting your kitchen walls and it's easy to see why. Glass tiled kitchens have no grouting, they're easy to clean and most importantly, they're DIY friendly. Here at DIY Splashbacks we have been specialists in the field since 2009 and ship across the UK and Ireland, providing our customers high quality, heat-resitant splashbacks to suit any kitchen design, behind any hob.
"I'm not sure if I want a colour or a design!"
We pride ourselves on offering a variety of designs on our splashbacks, from timeless shades of cream and grey to bold decorative patterns - there really is something for everyone. For those with a plain colour in mind, we offer painted splashbacks that can be matched as close as possible to a specific paint, fabric or even objects. 
* Unfortunately we cannot ever guarantee a 100% match due to a difference in materials but we try our hardest to match to a reference.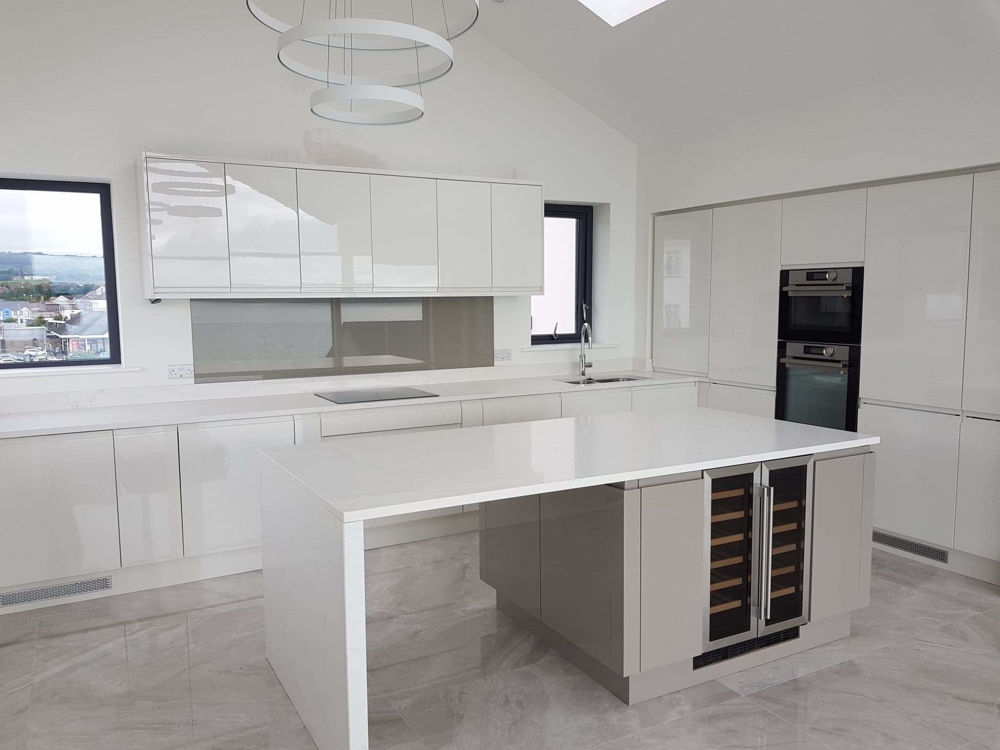 If you're looking for something bold as a focal point of your kitchen then we ofference patterned glass and textured glass splashbacks. One of our most popular styles of printed glass splashbacks is those from our faux tile effect collection - get that medditerranean feel without the need for grouting, labour and expense. Our glass is cheap to purchase and as you place it from the comfort of your own home with our very straight forward application guide, you can do it at your pace and when the time is right for you.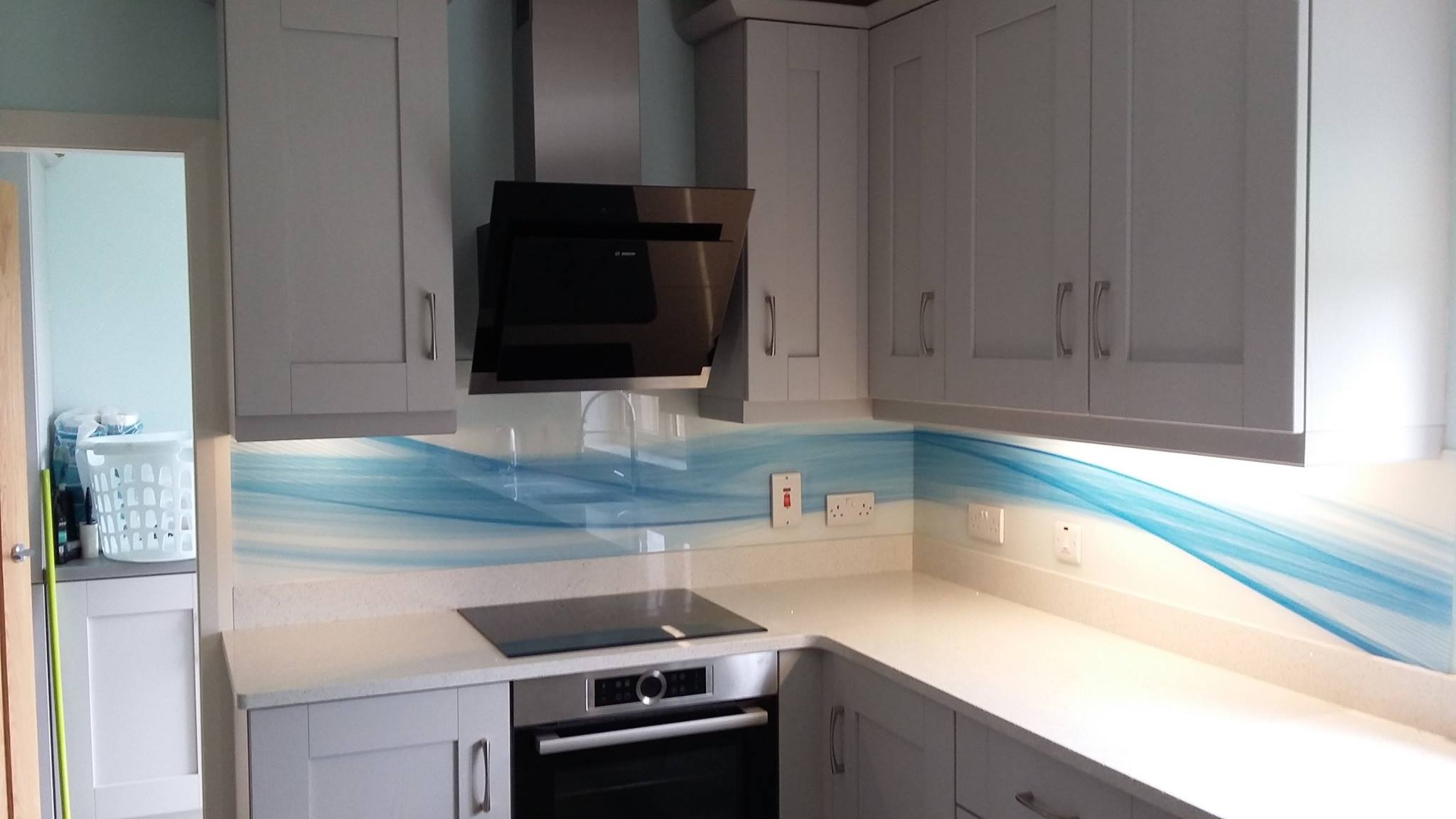 Picture: Waves Splashback
For those out there with an artistic eye, we have recently opened up our marketplace, this is a platform which allows creatives to upload their art to be sold as a splashback. We had previously worked with three artists over the course of five years to produce designer splashbacks that proved to be a big hit - now our designer selection has widened and there is a variety of fabric arts to traditional painting, photography, abstract and everything in between. 
"I can't find what I want!"
Do you have something in mind and you can't find quite what you're looking for? We can also do custom splashbacks. We will happily take any image over a suitable file size and quality of at least 4mb, or any image off Shutterstock and put it onto a splashback for you. This allows you to fully personalised a splashback for your kitchen. In the past we've done holiday pictures, pictures of pets, family and more. Personalised splashbacks are a one of a kind statement in the heart of your familys home.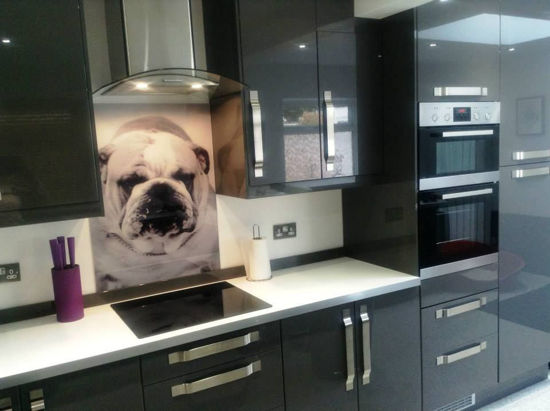 What's the finish on your glass?
Our glass comes in a standard highly reflective gloss finish which elevates a room by reflecting light from windows and fixings to create the illusion of a bigger space.
However we also offer frosted and brushed glass. Frosted glass, or brushed glass is an almost opaque finish that we can offer on our all of our splashbacks it's cloudy in appearance and provides a beautiful matte finish to a kitchen. This type of finish is well suited for darker colours and clear glass as it has a higher iron content than our standard gloss, which can lead to a green tinge in lighter colours, including patterns and designs. 
"But my DIY skills aren't up to scratch and it's a big area!"
One of the most common questions we get is "How big can you make your glass, do you cut to size?" The simple answer is yes, to both. We have standard stock sizes but we also offer fully bespoke, made-to-measure splashbacks. We have the glass cut to size based on the measurements provided and can also do complex shaping such as around plug sockets and curved cooker hoods. For larger pieces pieces requiring cut-outs, we offer a measure and fit service. We measure the area you're looking to cover, we are able to give you a price based on the measurements and then we fit the splashback for you. Our measure and fit service is fairly priced and depends on your location and the size of the job. 
Whatever the space, the dream and the idea, we will be here to help you achieve it.