When designing a kitchen there are many factors to consider, choosing the kitchen doors, worktops and appliances are the first step towards your dream kitchen but what do you put on the walls? Kitchen tiles look great in traditional kitchens but for more contemporary kitchen styles they can make the walls look a little dated. Fortunately, there are now many more options for contemporary kitchen wall coverings that are a lot more in keeping with the modern look. Coloured glass splashbacks are a great choice as they can be matched to any paint colour so you are essentially just choosing a colour and creating a fully washable, stainpproof, easily cleaned wall of glass.  Likewise, you can create exactly the same look with coloured acrylic panels which are manufactured in exactly the same way as glass splashbacks- the only downside is that they are not as heat resistant as glass so this is something to consider at the planning stage. The most in trend kitchen wall covering is now mirror splashbacks, available in different colours and styles mirror splashbacks protect your wall just as coloured glass splashbacks do but they also dramatically change both the amount of light in your kitchen as well as the perceived amount of space.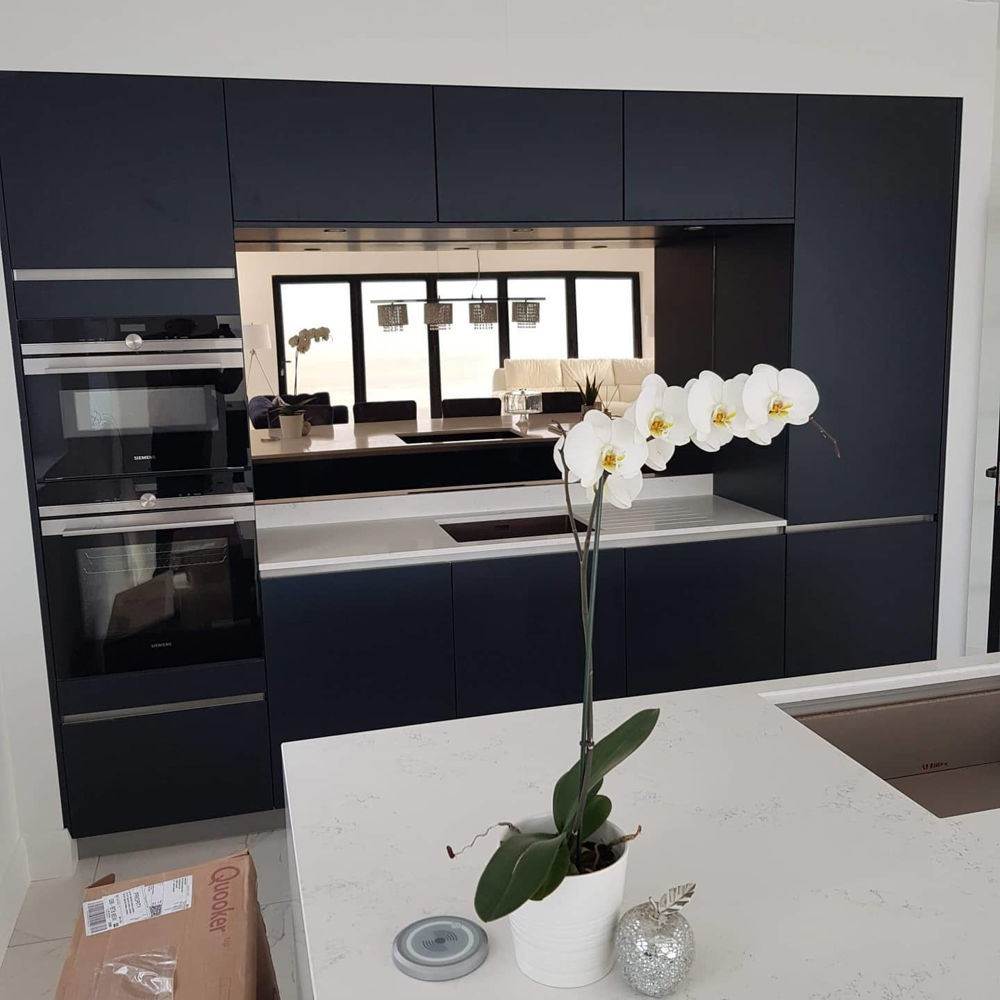 The above image of a bronze mirror splashback is a great example of how a mirror can not only be functional but also makes a dramatic difference to how big the kitchen looks. This example faces the seating area which is great as it allows anyone sitting in the kitchen to speak to other people without having to turn their head. The bronze tint in the mirror is the perfect complement to the sleek grey lines of the kitchen and of course the colour of the kitchen doors and worktops. Kitchen tiles would simply not have been the right match for this kitchen with grout lines ruining the aesthetics.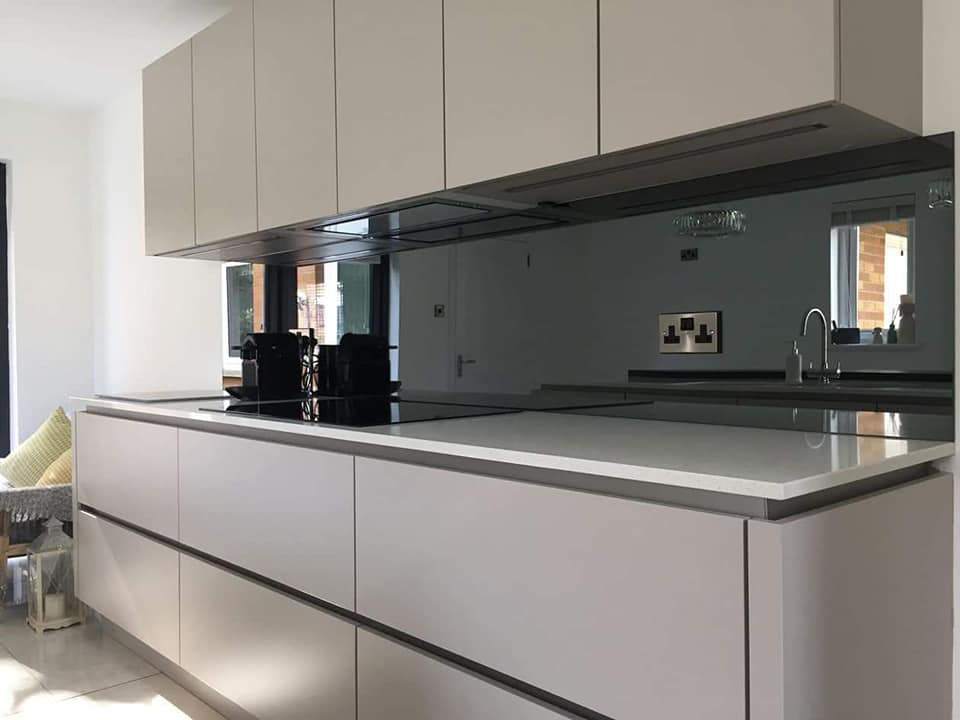 As mentioned, toughened mirror splashbacks are available in different colours (silver being the most common) so above you can see a nice example of a grey mirror kitchen splashback. As with the bronze example above you can see straight away that the kitchen looks much brighter and larger despite this being a darker coloured mirror. In this kitchen you will see that the mirror is behind the kitchen hob, this is an important feature of toughened glass mirrors as they are just as heat resistant as coloured glass splashbacks as they are both made from toughened glasss. Another great example of how a mirrored splashback is a great choice for a modern kitchen.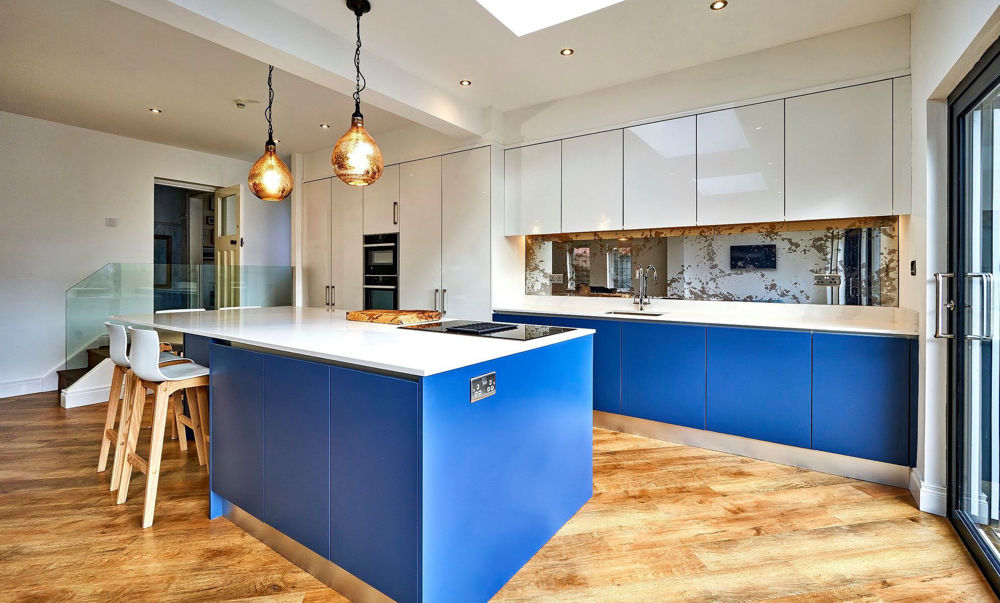 The most in trend style of kitchen mirror splashbacks at this time is though antique effect splashbacks. There are several reasons why people choose this look with the main one being that they create a feature of the kitchen rather than just making it look much bigger. This example is a rusted iron antique effect mirror but again, made from toughened glass so perfectly suitable for use behind any type of ktichen hob- including gas.
Whatever style you choose, the main thing to consider is the colour or effect. Grey mirror splashbacks would not suit certain kitchen colour schemes such as creams or ivory whereas a bronze mirror would, as it would have a degree of red in it as would the kitchen. For a grey or white kitchen you will find that a grey, silver or silver antique mirror splashback may be the better choice.
How can we help you find the right choice of mirror splashback for your kitchen?
The first step would be to order a sample to check to make sure your colour choice of mirror complements your kitchen doors and worktops. Mirror samples can be ordered on this page of our website.