Kitchen splashbacks may be primarily practical in nature, but this does not mean they cannot also be seriously stylish. As with most things, creativity and innovation hold the key to truly inspiring results when choosing kitchen splashbacks.
Of course, knowing where to start with a (literally) limitless range of custom options to choose from can be tricky. Whether you are looking for something understated or bold is entirely up to you, but it is essential to ensure the final effect is one you can be proud of.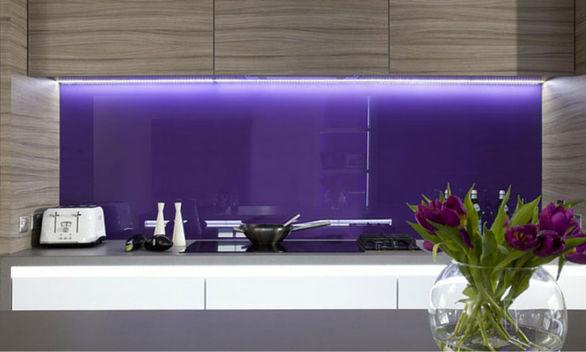 With this in mind, here is a selection of innovative glass splashback ideas for a more stylish and unique kitchen:
1. Create a bold contrast
First up, this is where you specifically choose a colour for your splashback that creates a bold and eye-catching contrast. This can be particularly effective if your kitchen's décor is neutral and understated, providing the opportunity to bring a burst of bold colour into the mix. Mixing colours from opposite ends of the colour spectrum will also create an exciting and unique statement that will make you the envy of all your friends
2. Showcase exposed brickwork
If you have brickwork or any other structural feature you like the look of, why not cover it with a completely clear splashback? This will enable you to both continue showcasing the feature and provide it with an additional layer of protection. If preferred, you can also opt for something lightly tinted in a hue of your choosing, in order to still allow the brickwork behind to show through.
3. Go for something understated
If you are looking for more muted and neutral colours and designs for your dream kitchen you may be more inclined to choose a splashback that blends in more than stands out. You may simply want a functional and understated addition to your kitchen, which serves a valuable purpose without affecting its visual aesthetic.
4. Consider 'framing' your splashback
Another fantastic design option for creating a standout kitchen feature is to consider 'framing' your splashback. This is where you strategically select and place a series of tiles around the outline of the splashback. You can go for something coloured, something patterned or something plain - whichever works best with your kitchen décor.
5. Match your splashback to your kitchen cabinets
One of the easiest ways of creating a unified feel throughout the kitchen is to paircoloured glass splashbacks to your kitchen cabinets shade. Or perhaps the other way around - repaint your cabinets the same colour as your new splashback. Both options can be surprisingly straightforward and are perfectly possible as DIY projects if you are a dab hand with a paintbrush!
6. Reflect light with a mirrored splashback
One of the biggest benefits of a mirrored splashback is the way in which it creates a feeling of spaciousness in the kitchen. It can also be great for maximising natural light, particularly where smaller kitchens are concerned. Mirrored splashbacks can be plain or tinted as preferred, in order to perfectly complement their surroundings.
7. Play around with patterned tiles
Last but not least, placing a series of patterned tiles in the wall directly behind a glass splashback is an easy and affordable way to create a feature wall in your kitchen. Get creative with your own custom mosaic, or simply pick up a selection of patterned tiles and arrange them in any way you like. Either way, the result will be an eye-catching focus point for the entire kitchen.